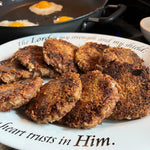 Ingredients:
1 can corned beef
1 small onion (chopped)
1 large potato (grated, squeeze out any excess liquids)
3 Tablespoon green onion (chopped ¼ inch)
1/2 teaspoon 

"For J's" Garlic Sea Salt


or "For J's" Kiawe Smoke Sea Salt 
1/2 teaspoon garlic powder
1 egg
2 pinches black pepper
Panko (Japanese bread crumbs)

Instructions:
Place all ingredients (except Panko) in a large mixing bowl.

Mix by hand to blend ingredients.

Form into 3 inches patties.

Coat patties with Panko.

Heat frying pan with 3 Tablespoons oil and fry patties until crispy golden brown.
*Tip: For perfectly rounded patties, use an ice cream scooper with a ratchet mechanism that releases even scoops.