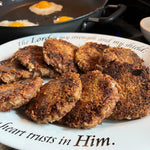 Ingredients: 1 can corned beef 1 small onion (chopped) 1 large potato (grated, squeeze out any excess liquids) 3 Tablespoon green onion (chopped ¼ inch) 1/2 teaspoon "For J's" Garlic Sea Salt or "For J's" Kiawe Smoke Sea Salt  1/2 teaspoon garlic powder 1 egg 2 pinches black pepper Panko (Japanese bread crumbs) Instructions: Place all ingredients (except Panko) in a large mixing bowl. Mix by hand to blend ingredients. Form into 3 inches patties. Coat patties with Panko. Heat frying pan with 3 Tablespoons oil and fry patties until crispy golden brown. *Tip: For perfectly rounded patties, use an ice cream...
---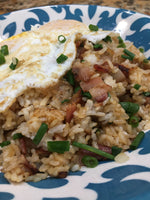 Ingredients: 5 cups rice (cooked) 1 package bacon (sliced 1/2 inch pieces) 1 round onion (chopped) Vegetarian Stir-fry sauce to taste (Shitake Mushroom flavored, sold in stores next to bottled oyster sauce) Soy Sauce to taste Pinch or two "For J's" Hawaiian Chili Pepper Sea Saltor "For J's" Kiawe Smoke Sea Salt Green Onions (chopped) Black pepper Instructions:In pan, cook bacon and round onions. Take out of pan and leave about 2 tablespoons bacon oil in pan. Add cooked rice and salt. Pan fry a few minutes then add cooked bacon and round onions. Add vegetarian sauce, soy sauce and black...
---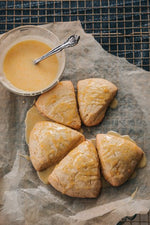 Ingredients: 2 cup all purpose flour 4 teaspoons baking powder 3/4 teaspoon salt 1/3 cup white sugar 4 Tablespoons butter 2 Tablespoons shortening 3/4 cup whipping cream or milk 1 egg (slightly beaten)  1/2 cup raisins (or other dried fruit) "For J's" Mango Sugar or "For J's" Pineapple Sugar Instructions: In large mixing bowl, combine flour, baking powder, salt and white sugar; blend well. Cut butter and shortening into dry mixture. In separate bowl, combine cream with beaten egg; add to dry ingredients; fold in fruit. Turn dough onto floured surface. Roll dough out and cut into biscuit size rounds. Place...