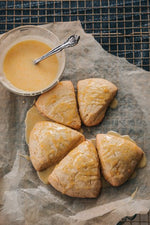 Ingredients:
2 cup all purpose flour
4 teaspoons baking powder
3/4 teaspoon salt
1/3 cup white sugar
4 Tablespoons butter
2 Tablespoons shortening
3/4 cup whipping cream or milk
1 egg (slightly beaten) 
1/2 cup raisins (or other dried fruit)
Instructions:
In large mixing bowl, combine flour, baking powder, salt and white sugar; blend well.
Cut butter and shortening into dry mixture.
In separate bowl, combine cream with beaten egg; add to dry ingredients; fold in fruit.
Turn dough onto floured surface. Roll dough out and cut into biscuit size rounds.
Place on greased baking sheet; sprinkle with For J's Hawaiian Cane Sugar.
Bake at 375 degrees for 15 minutes or until light golden brown.