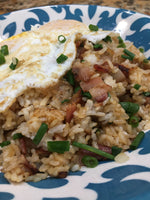 Ingredients:
5 cups rice (cooked)

1 package bacon (sliced 1/2 inch pieces)

1 round onion (chopped)

Vegetarian Stir-fry sauce to taste (Shitake Mushroom flavored, sold in stores next to bottled oyster sauce)

Soy Sauce to taste

Green Onions (chopped)

Black pepper
Instructions:

In pan, cook bacon and round onions. Take out of pan and leave about 2 tablespoons bacon oil in pan. Add cooked rice and salt. Pan fry a few minutes then add cooked bacon and round onions. Add vegetarian sauce, soy sauce and black pepper to taste. Last add green onions and serve.