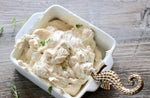 Ingredients:
2 lb potatoes (boiled and mashed)
3/4 cup dehydrated potato flakes
1 block butter (1/2 cup)
2 cloves garlic (minced)
1 can evaporated milk
1 teaspoon "For J's" Garlic Sea Salt
Instructions:
Saute garlic in butter, set aside.
Prepare dehydrated potato flakes by following package instructions. Use a portion of melted garlic butter and evaporated milk.
In a large mixing bowl, combine both prepared and boiled/mashed potatoes.
Mix in Garlic Sea Salt and gradually add remaining melted garlic butter and milk.