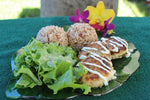 Ingredients:
2 blocks firm tofu (drained)
2 cans salmon (7 1/2 oz.) or tuna (6 oz.) [you may also substitute with crab meat, shredded fish cake or canned chicken]
1 small onion (minced)
3 Tablespoon green onion (chopped 1/4 inch)
1 teaspoon "For J's" Kiawe Smoke Sea Salt 
or "For J's" Garlic Sea Salt 
1 teaspoon sugar
2 Tablespoon shoyu (soy sauce)
1 egg
1/2 cup Panko (Japanese bread crumbs)
1 carrot (finely grated) [optional]
1/2 cup Shiitake mushrooms (thinly sliced) [optional]
1 can (5 to 8 oz.) water chestnuts (minced) [optional]
Instructions:
Place all ingredients in a large mixing bowl.
With clean hands mash and mix together.
Form into small cylinder shaped patties (about 3 inches diameter). *Tip: 

For perfectly rounded patties, use an ice cream scooper with a ratchet mechanism that releases even scoops.

Coat patties with additional Panko.
Heat frying pan with 3 Tablespoons oil and fry patties until crispy golden brown.