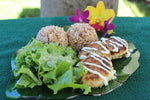 Ingredients: 1/2 cup fresh button mushrooms 2 blocks firm tofu, drained 1 cup cooked crab meat 1 cup chopped, cooked shrimp 1 small onion, finely chopped 1 teaspoon "For J's" Hawaiian Chili Pepper Sea Salt 1 teaspoon sugar 1 egg (may use 2 egg whites for no cholesterol) 1/2 cup panko (Japanese bread crumbs), plus additional panko for coating patties Instructions: Thinly slice the mushrooms, then sauté them in butter and garlic to taste. Cool and drain off liquid. Place all ingredients in a large mixing bowl. With clean hands, mash and mix ingredients together. Form into small patties (about 3...
---
Ingredients: 6 Chicken thighs 3/4 tsp "For J's" Garlic Sea Salt 1 Cup All purpose flour 3 Large eggs 2 Cups Panko 1/3 Cup Water Canola or Vegetable Oil (Enough to cover bottom of pan) Katsu Sauce: 2/3 Cup Ketchup 3 Tbsp Worcestershire 1/4 Cup Brown sugar 4-5 dashes Hot sauce 1/4 Tsp "For J's" Kiawe Sea Salt Instructions: Butterfly the chicken thighs so they are nice and level, then place them into a bowl. Add the 3/4 tsp of "For J's" Garlic Sea Salt to the chicken thighs and evenly mix. Crack the 3 large eggs and add the...
---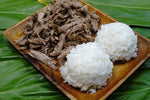 Ingredients: 5 to 5 1/2 lb. pork butt 1 1/2 Tbsp. "For J's" Kiawe Smoke Sea Salt or "For J's" Garlic Sea Salt 3-4 cloves garlic (finely chopped) 6 Tbsp "For J's" Kiawe Liquid Smoke 2 Tbsp. Whisky 1/2 c. water 7 ti leaves (optional) Crock-Pot Instructions: Line crock-pot with ti leaves (optional) Pour in 1/2 cup water. Rub "For J's" Sea Salt and fresh garlic over entire pork butt and place into pot. Pour liquid smoke and whisky over pork and cover with more ti leaves. Cook in crock-pot for 8-10 hours. When done, transfer pork to another pot or platter. Shred pork and...